Many machine interface softwares allow you to jog with the keyboard instead of pressing buttons with your mouse. Additionally, some may support joystick control and pendants, which allow you to use an external controller, such as your phone, instead of a keyboard.
The following instructions are for jogging with your keyboard for UGS and CNCjs.
UGS
On UGS, you can jog your machine using whichever keys you prefer. Go to Tools > Options to pop open the dialog box, select Keymap. Find the "Jog" commands through the search bar, then clear and edit the shortcuts as needed. To assign the arrow keys, you need to press the drop down button to open the keypad and select the desired key. Press OK to save the settings.
Then make sure you have keyboard jogging enabled by pressing the keyboard button in the middle of the Jog Controller box.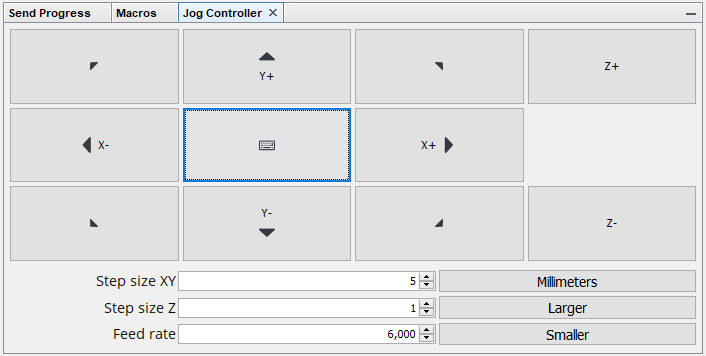 CNCjs
Similarly, on CNCjs keyboard jogging can be enabled by pressing the keyboard button at the Axes widget. Currently CNCjs only allows you to jog with the default keys, so you cannot change them.